With travel curtailed and a significant part of the year spent under lockdown conditions, I read a lot of books in 2021. There were periods throughout the year when all that interested me was the pure escapism of a good mystery and I turned to some of my favourite mystery writers (which included Linwood Barclay, Harlen Coben, Jeffery Deaver, J.A. Jance, Anne Perry, John Sandford, Iona Whishaw, Jacqueline Winspear). But 2021 wasn't all mysteries. I read a number of other genres as well.
Here are the list of what I've rated as my top ten reads of 2021. (Note: Only one of the selections was published in 2021. The rest of the books have publication dates ranging from 1995 to 2020.)
1. Braiding Sweetgrass by Robin Wall Kimmerer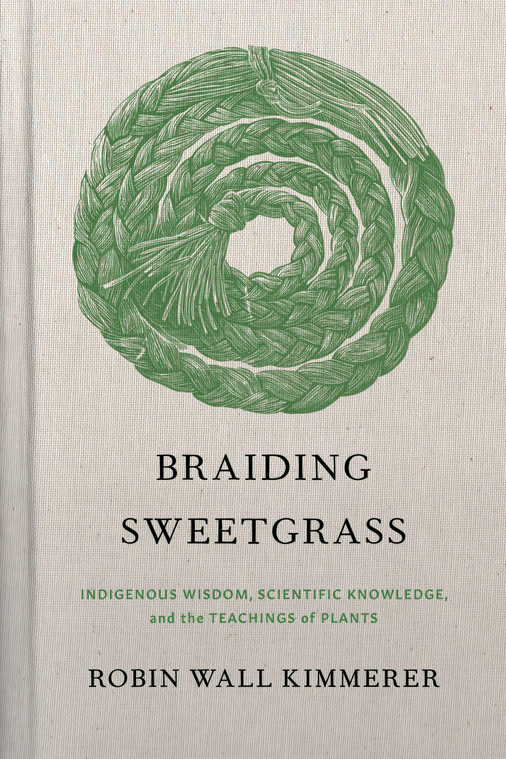 As a botanist, Robin Wall Kimmerer has been trained to ask questions of nature with the tools of science. As a member of the Citizen Potawatomi Nation, she embraces the notion that plants and animals are our oldest teachers. The essays in Braiding Sweetgrass: Indigenous Wisdom, Scientific Knowledge, and the Teachings of Plants draw on her life as an indigenous scientist, a mother, and a woman to reflect on how other living beings offer us gifts and lessons. As a poet, she tells these stories beautifully.
Each essay eloquently weaves together personal experiences and several ideas around a central theme of humans' reciprocal relationship with the rest of the living world. I related to things in each essay. I learned about plant life and indigenous beliefs. I was thoughtfully provoked and inspired.
Braiding Sweetgrass was one of my book club's 2021 selections. Each member was to read a few essays of their own choosing to discuss at our meeting. Most, including me, chose to read all of them because they were so interesting and compelling. This meant I went through the essays in quick succession. While I enjoyed doing that, I think the essays deserved a slower read with more time to savour, reflect and ponder each one.
We borrowed the Braiding Sweetgrass book club kit from our local library. The book was so loved by my book club members that after we returned the kit to the library, almost all of us bought one or more copies, either to have on our own bookshelves or to give as gifts. It is a book to read again and again.
Braiding Sweetgrass was published in 2013 by Milkweed. It received numerous best seller awards. Kimmerer received the 2014 Sigurd F. Olson Nature Writing Award for the book.
2. Fight Night by Miriam Toews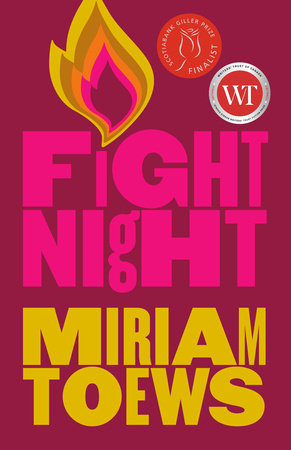 Fight Night, published in 2021 by Knopf Random Vintage Canada, is the latest book by a favourite author. It is the story of a close-knit family of three generations of women as told by nine-year-old Swiv. Swiv's single pregnant mother is raising her while caring for her own elderly mother. The story takes place in the last trimester of that pregnancy when Swiv is expelled from school and Grandma takes on the role of teacher.
Swiv's observations show the joy, pain, love, and humour of their lives. Although we learn about all three, it is the grandmother who is at the heart of the story. She is frail with health issues and lively and irrepressible at the same time. In short, a character.
The book is funny with laugh-out-loud moments. It contains the type of scenes I think Toews does best: absurd situations readers can identify with and relate to because of the emotions within and behind them. A line of melancholy weaves through the humour, but overall the book is about love, resilence, and finding joy.
3. The Pull of the Stars by Emma Donoghue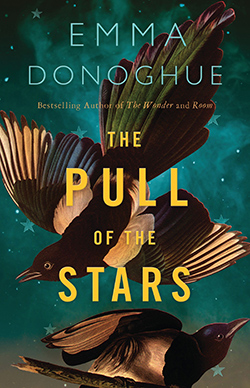 I had mixed feelings about reading a book about a pandemic while in the middle of a pandemic, but I am glad I did. The Pull of the Stars takes place in a maternity ward over three days in 1918 Dublin at the height of the great flu. Julia Power, the main character, is a nurse midwife who shares a flat with her shell-shocked younger brother and works in a supply room that's been turned into a three-bed maternity ward for fever victims.
There is an eerie familiarness of history repeating itself in the opening scene with coughing masked people on a city bus. In a city where many residents have already born the tragedies of war, the pandemic serves as a backdrop to personal stories of the patients on the ward and of Julia Power as she interacts with a female doctor on the run from the police and a young volunteer. One review I read called it a book about caregivers: the medical staff and the mothers on the ward, often caring for their families under difficult circumstances. In spite of the darkness of the subject matter, the book is about hope, empathy, and survival.
Emma Donoghue is an award-winning Irish-Canadian writer whose novel Room was a best-seller. She penned The Pull of the Stars before COVID-19 hit the world. As the pandemic started to dominate our world, publisher Little, Brown and Company moved up the planned publication date from fall of 2020 to mid-summer 2020.
4. Troubled Blood by Robert Galbraith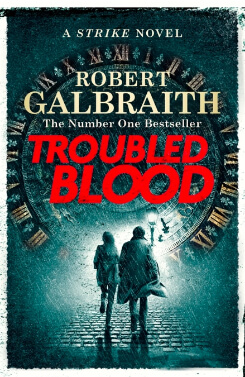 Robert Galbraith is the pen name JK Rowling, author of the Harry Potter series, uses in her mystery series about private detective Cormoran Strike and his partner Robin Ellacott. The books have been turned into a successful British television series.
Published in 2020 by Sphere, Troubled Blood is the fifth book in the series. Strike and Ellacott tackle a complex cold case while dealing with their own personal issues and feelings. Despite being a thick book, the longest in the series so far, Troubled Blood is a relatively quick (and enjoyable) read.
5. Indians on Vacation by Thomas King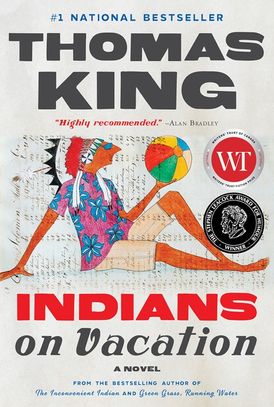 American-born Thomas King is one of Canada's foremost authors. The prolific and award-winning writer is often described as one of the finest contemporary Indigenous writers in North America. He's written in a variety of genres and portrays the challenges facing Indigenous peoples with poignancy and humour.
Indians on Vacation, published by HarperCollins in 2020, follows a middle-aged Indigenous couple on a vacation through Europe, a trip inspired by a handful of old postcards sent by Uncle Leroy nearly a hundred years earlier. Bird and Mimi attempt to trace Mimi's long-lost uncle and the family medicine bundle he took with him to Europe.
Bird would rather be at home. "Why would we want to travel when we can stay home?" Mimi embraces everything about the trip. They bicker and banter in a manner unique to couples who have been together a long time and care for each other despite (or because) of their differences. Bird has his demons. Mimi has named every one of them. As they explore and converse (much of the novel unfolds in dialogue), their history is revealed. A history both personal and political.
The book is heartwarming and entertaining as it ponders the importance of history and reflects on historical injustices.
6. My Grandmother Asked Me to Tell You I'm Sorry by Fredrik Backman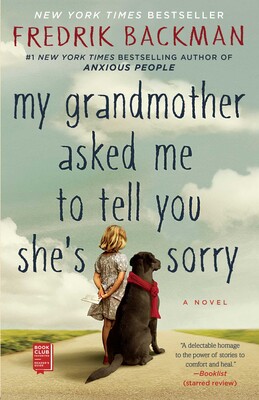 My Grandmother Asked Me to Tell You I'm Sorry was first published in Sweden in 2013. The English translation was published in 2015. It has been described as a contemporary fairy tale.
Elsa is a seven-year-old, clever, precocious child who has trouble with other children and school. Her rule-flouting eccentric grandmother is her best friend. Her grandmother had been a doctor saving lives in places torn apart by war and disaster until she retired to help Elsa's mother care for Elsa. They live in an apartment building of misfits. Each evening Elsa escapes into the stories of the Land-of-Almost-Awake told by her grandmother. Her grandmother teaches her the land's secret language.
When her grandmother dies, an angry, grieving Elsa reluctantly embarks on the treasure hunt her grandmother left her. Elsa is to deliver apologies to a number of people. In that quest, Elsa learns more about her grandmother's life, discovers the connections each of the misfits in the apartment building had with her grandmother, and finds the real-life stories reflected in the Land-of-Almost-Awake.
The book highlights the importance of stories and paints a poignant, true, and often funny portrait of grief.
7. The Color of Water by James McBride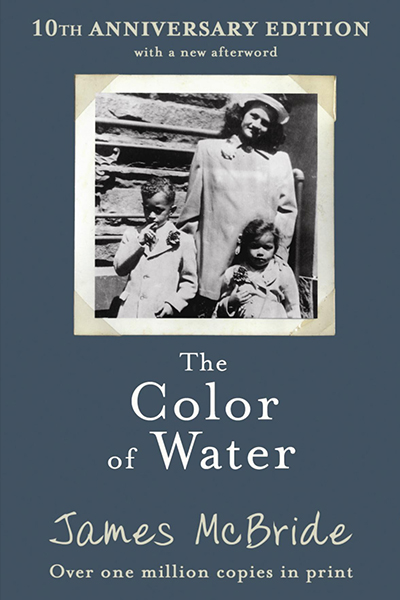 In The Color of Water: A Black Man's Tribute to His White Mother, first published in 1995, American writer and musician James McBride tells a vivid story of growing up in "organized chaos" with eleven siblings in the poor all-black projects of Red Hook, Brooklyn, New York. His father was a black minister. His mother would not admit she was white and declared herself "light-skinned." She was protective of her family, sent her children to the best schools, and demanded good grades. McBride was almost thirty before he learned the truth of his mother's life.
His mother was the daughter of a failed iterant Orthodox rabbi and had an unhappy childhood in Virginia. She married a black minister in New York and founded the all-back New Brown Memorial Baptist Church. She was twice widowed, saw her dozen children through college, and received her own degree in social work at the age of sixty-five. Along with revealing his mother's story, McBride shares recollections of his own experiences.
Described as a meditation on race and identity, the book is a fascinating, engaging, and touching story.
8. The Queen of Palmrya by Minrose Gwin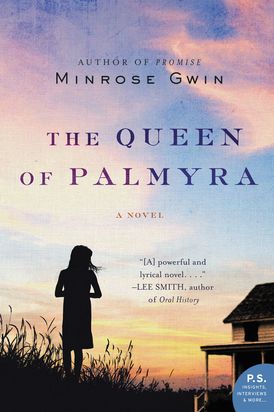 Published by HarperCollins in 2010, The Queen of Palmrya is a story of racial tensions in the southern U.S. in 1963 as told through the eyes of an 11-year-old white girl. Florence Forrest, an only child, sees things she won't understand for years to come. She doesn't understand why her father leaves each night with a mysterious box or why her mother drinks so much. The story begins "I need you to understand how ordinary it all was." Although Florence doesn't understand, the reader recognizes Ku Klux Klan activity and comes to understand her mother's late-night excursions to take Florence for ice cream as a means to warn those targeted.
Florence spends time with her well-to-do maternal grandparents and is cared for by their maid, Zenie, on the colored side of town. Things escalate that summer when Zenie's niece comes to town and is brutally assaulted.
The writing in this book is lovely and almost lyrical. The multi-layered story is gripping. The beauty of the prose draws you into the story emotionally even as it reveals ugly truths.
9. Pachinko by Min Jin Lee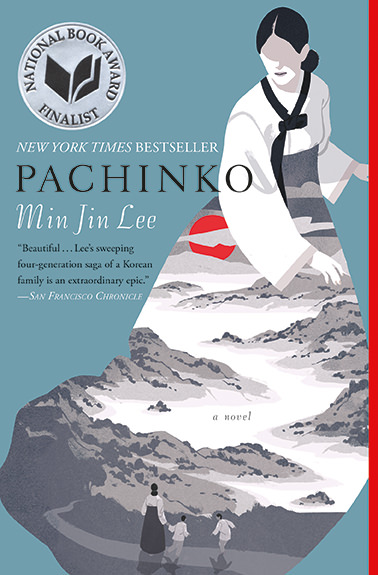 Published in 2017, Pachinko is an historical fiction novel following a Korean family that immigrates to Japan. In the early 1900s, teenaged Sunja, the adored daughter of a crippled fisherman, falls for a wealthy stranger who promises her the world. When she discovers she is pregnant and her lover is married, she refuses to be bought. Instead, she accepts an offer of marriage from a gentle, sickly minister passing through on his way to Japan.
The intergenerational epic is divided into three parts. Book I (1910 – 1933) starts in a small fishing village in Japan-occupied Korea where Sunja's grandfather, an elderly fisherman, and his wife take in lodgers. It ends with Sunja in Osaka, Japan and the birth of her first child Noa. Book II (1939 – 1962) follows the family's fortunes in Japan. Sunja's two sons grow up. World War II breaks out. Book II ends with Sunja trying to find her now-estranged son Noa. Book III (1962 – 1989) tells of Noa's new beginning in Nagano and the fortunes of Sunja's other son who becomes a rich man owning pachinko parlours.
Pachinko is a richly-told story about family, love, loyalty, class, cultural displacement, and the struggle for a better life amid a backdrop of war and Korean-Japanese strife.
Pachinko, by the way, is a mechanical gambling game that is a mixture of a slot machine and pinball. The pace of the game is slower than a Las Vegas slot machine. Pachinko bars in Japan are recognized by their bright and colourful exteriors. Inside they are noisy.
10. This Time Next Year We'll All Be Laughing by Jacqueline Winspear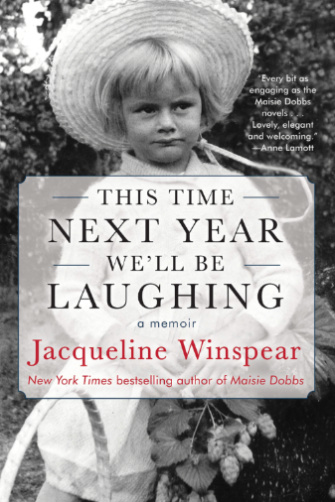 Jacqueline Winspear is the author of the Maisie Dodds mystery series. In the memoir This Time Next Year We'll All Be Laughing, published in 2020 by Soho Press, Winspear writes about growing up in Kent, England in the 1950s and 1960s.
She says we are products of our family mythology and therefore knew she also had to include her parents' stories. Included are her paternal grandfather's shellshock, her mother's evacuation from London during the Blitz, her soft-spoken animal-loving father's torturous assignment to an explosives team during WWII, her parents' years living with Romani Gypsies, her parents working multiple jobs to support the family, her own working from a young age starting with picking hops and apples, and time with extended family. It is a story of family resilience.
The title comes from a common phrase used by her father, a phrase she said summed up his attitude to life. In May 2020 I wrote about the way that phrase and attitude resonated with me after more than a year of pandemic living. Read what I wrote here.