This Time Next Year We'll Be Laughing is the title of Jacqueline Winspear's memoir. Although the book is mostly about growing up in Kent, England, during the 1950s and 1960s, as I read it, I kept thinking about how that title could be a tagline for 2021 and what many of us are feeling and hoping during these pandemic days. The title for Jacqueline Winspear's memoir comes from a common phrase used by her father. She says "it sums up not only his own attitude to life, but an attitude of a whole generation who lived through the darkest of times."
For well over a year now, we've been seeing the devastation caused by the COVID-19 pandemic and have lived under varying degrees of restrictions as we've gone through a first wave, a second wave, and now a third wave. At first, I looked forward to a time a few months down the road when things might return to near-normal. That goalpost kept moving and almost a year and half later I'm still looking for that time. Even as the third wave pummels many parts of Canada, the vaccination rollout gives me hope that we may indeed be laughing this time next year, although the inequities in vaccine distribution across the globe may dampen that glee as many parts of the world may continue to battle the virus.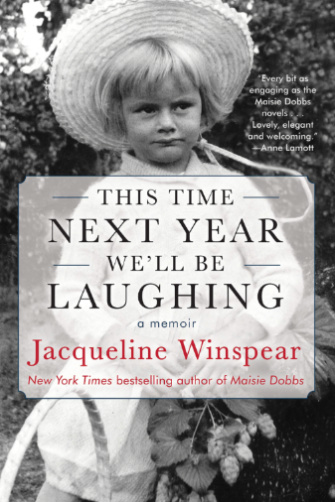 The memoir This Time Next Year We'll Be Laughing is about Winspear's childhood, but it also about her parents' lives. She says," We are, all of us, products of our family mythology. Stories are not only passed down, but nestled in every cell. When I thought about writing a memoir, I knew I had to write my parents' story—because I am of them."
So, her mother's evacuation from London during the Blitz, her paternal grandfather's shellshock from his time as a World War I soldier, her father's assignment to an explosives team during World War II, and the time her parents spent with Romany Gypsies during the early years of their marriage are all part of the story. Stories from her own childhood include a love for the Kent countryside, the financial struggles her family faced as her parents worked multiple jobs to support them, working herself from a very young age starting with picking hops and apples, family illness, and times with cousins and aunts and uncles. Her own experiences paint a picture of post World War II English life.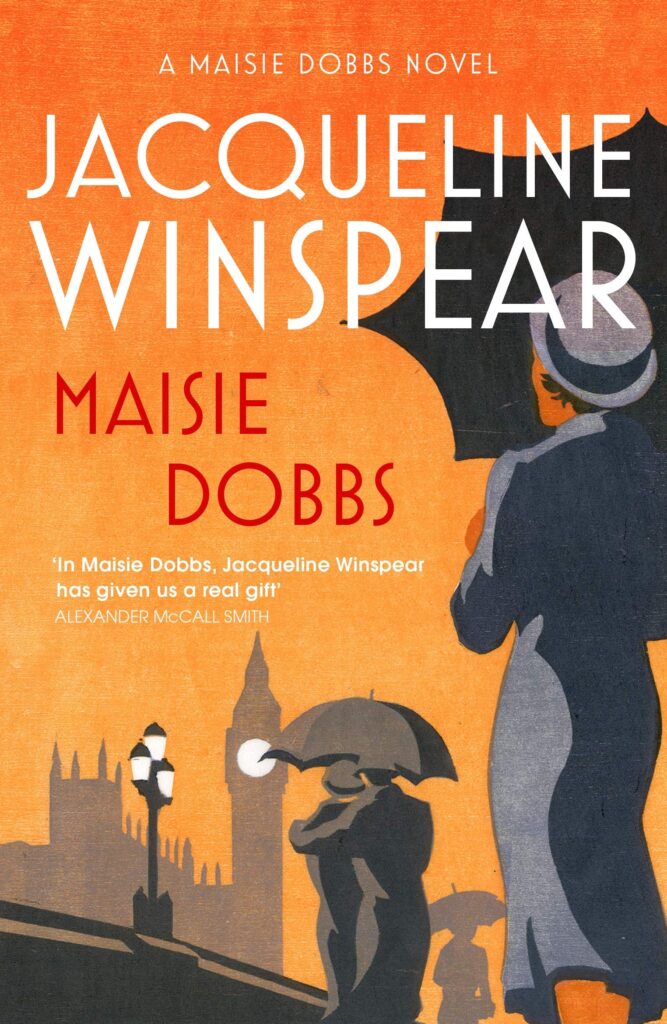 Jacqueline Winspear is the author of the popular Maisie Dobbs mystery series. I am a big fan of the series. The fictional Maisie Dobbs was raised by her father, a street seller of fruit and vegetables in London, after her mother died when she was very young. The lord and lady of the household where she worked as a maid recognized her intelligence and made arrangements for a friend to tutor her. She volunteered in World War I and after the war joined this friend as his assistant in his private investigation and psychology practice. In the first novel of the series, she starts her own detective agency. The sixteen books in the series to date cover a time period running from 1929 to 1941. Many of the stories Winspear heard from her parents and other family members have shaped and been woven into the novels. I found the memoir interesting on its own, but recognizing elements that made it into the Maisie Dobbs books added extra interest and a sense of connection.
In Winspear's memoir, there are times the family is laughing next year. There are times they aren't. Even in the midst of hardship, there are great moments and love and, yes, laughter. Winspear doesn't shy away from the difficult stories, but tells them with more compassion and love than bitterness. A sense of resilience and hope runs through the book.
It was good to be reminded of resilience and hope. People have lived through dark times before. And, in the midst of dark times, they have found not only hope for the future, but also a way to live their current life to the fullest. I see that today in the creative ways people have found to connect with loved ones and to help others, even when they cannot be physically together, and in the simple ways in which we've found our own joys. I wonder how our pandemic stories will get woven into our family mythologies and how they will shape future generations.
Like Winspear's father I look forward to next year when all will be well in my world. I look forward to hugging my daughter and son-in-law. I look forward to meeting my granddaughter, who just turned one, in person, hugging her, having her sit on my lap or beside me as I read her a story, and holding her hand as we explore. I look forward to outdoor barbecues and even indoor dinner parties with friends where we don't worry about keeping our distance. I look forward to planning travel and actually being able to complete the trip. In the meantime, I find my joy in the videos and photos I receive, video chats, telephone conversations, books, puzzles, walks, and my writing. This time next year we'll be laughing. There will be likely be a few tears (of joy) mixed in with the laughter.