In this year of pandemic restrictions, many conferences have gone virtual. Until I attended one myself, I was skeptical about how satisfying that format would be. I was pleasantly surprised. Done right, the online format can provide great content and recreate much of the positive conference vibe. Based on my experience with 2020 Surrey International Writers Conference (you can read about that experience here), I have a few tips on how to get the most out of an online conference.
Some of the things that apply to an in-person conference, such as planning ahead for what sessions you most want to see or who you most want to connect with, still apply, but I am not going to concentrate on those. You can find numerous articles on the Internet about getting the most out of a conference. The tips I offer are specific to the online format.
What To Do Before A Virtual Conference
1. Determine Attendance Location
Yes, you will be attending virtually via your laptop or mobile device, but consider where in your home you will sit with that device. The usual spot on the dining room table or in an office/den may or may not be appropriate. If you are likely to get interruptions and/or have people passing through, you may want to find a more private spot, if possible. If you will be attending some or all of the sessions from your place of work, will your usual workspace work? If not, are you able to take over a small meeting room or attend the conference from home?
In my case, I share a home office with my husband. That works fine most of the time. I have attended webinars and a few Zoom sessions from that spot. My husband's desk is behind me to the side so he isn't visible from my webcam and he remains quiet, using his own headphones, if necessary, for an hour or two. But for a several-day conference schedule, I didn't think this would be optimal. I relocated to a spot in the seldom-used family room in our basement.
Adjust lighting as required. If you are going to be on camera for parts or all of the conference sessions, make sure light from a window or lamp behind you doesn't wash you out. Check what is visible in the background behind you. Will it be too distracting? Is there a mess you'd prefer others didn't see? Clean up the space or use another image as a background if the technology in use allows for it.
2. Determine how you will view the conference
Will you use your laptop, your tablet, or your phone? Can it be set up in a way that will be comfortable to watch for a full day? I would have a hard time watching just one session on my phone, never mind several sessions throughout the day, but there are people who are used to doing everything with their phone.
When I work on my computer at home, I have my laptop and a large external screen sitting side by side on my desk. I work mostly on the larger screen. I am used to working solely on the smaller laptop screen when I travel or am away from home for long stretches, but I thought I'd enjoy the conference more on the larger screen. However, my webcam is on the laptop. Set up in the usual side-by-side manner, all people would see is one side of my face as I watched the larger screen. I raised the laptop and set it behind the large screen in a way that I could angle it to capture my face while I still used the external screen.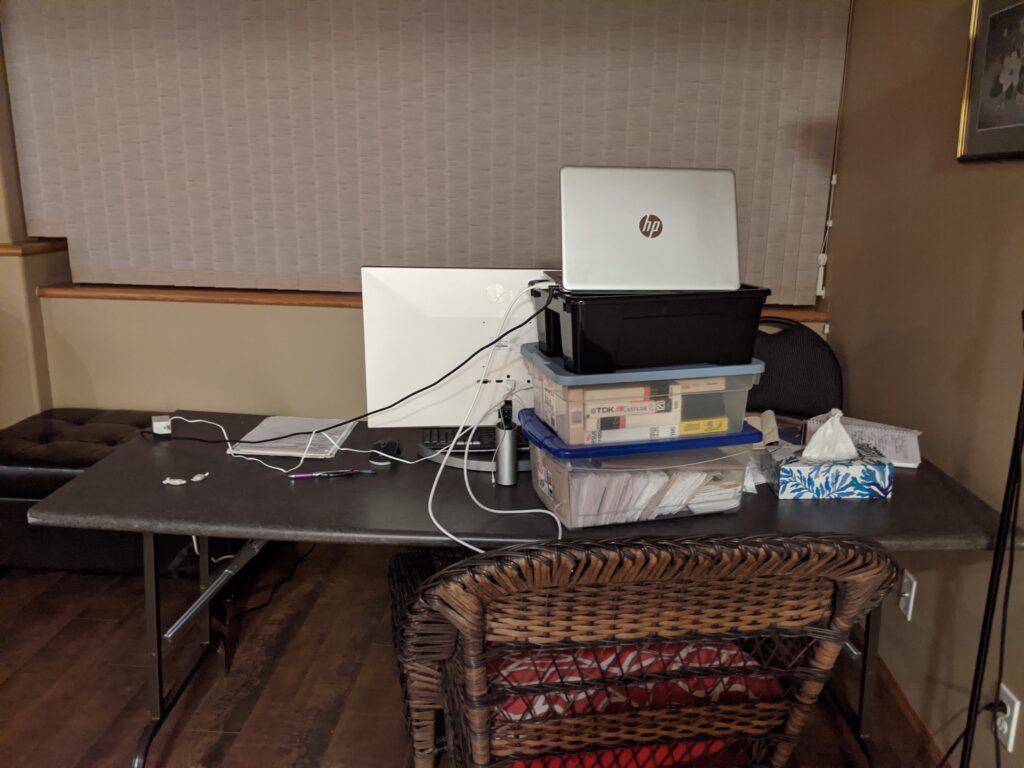 3. Download any necessary software
If a specific software (e.g. Zoom or some other product) is required to participate in conference sessions, download the software in advance of the conference and make sure it is working. A well-organized conference will have a "technical support desk" facility to assist you with issues.
4. Clear Your Schedule
If you travel to attend a conference in person, you step away from your home and your work. Although you may need to occasionally respond to urgent emails, there is generally an expectation you are unavailable. I've seen writers at conferences work in their hotel room in the evenings to meet a deadline, but that situation too is something most try to avoid.
It is harder to separate oneself from the demands of home and work when you are at home. Do not schedule anything for the days of the conference. Make sure your family and work colleagues knows you will be unavailable. Make arrangements, as much as possible, for others to take on regular tasks that cannot be deferred.
If you are one of those persons who will not be able to relax and enjoy the conference if you're aware of chores around the house waiting to be done, try to get the most critical of those chores accomplished before the conference so they don't weigh on your mind.
5. Plan your meals
At an in-person conference you don't worry about preparing meals. Lunch and breakfast may be included in the conference. When dinner isn't included as part of some event, you visit a restaurant in the hotel or nearby.
It is a different story at home. Plan ahead to have meals ready to heat or be prepared quickly, arrange for delivery, or have another family member cook. Don't forget to plan for snacks like the mid-morning muffins and the mid-afternoon fruit and cookies often served at conferences.
6. Attend the orientation session
If the conference offers an orientation session ahead of or at the very beginning of the conference, attend, even if you are a veteran of online events. Information about how the online portions of the particular conference are structured and how best to navigate them will help you get the most out of the experience.
What To Do During The Virtual Conference
1. Dress
Dress each day as if you were attending in person. Not only does this mean you will present well in sessions where you are on camera, it will help you get in the mood. Sure, you could get away with just a decent shirt and staying in your pyjama bottoms if you are at home, but it doesn't create the same feel or attitude.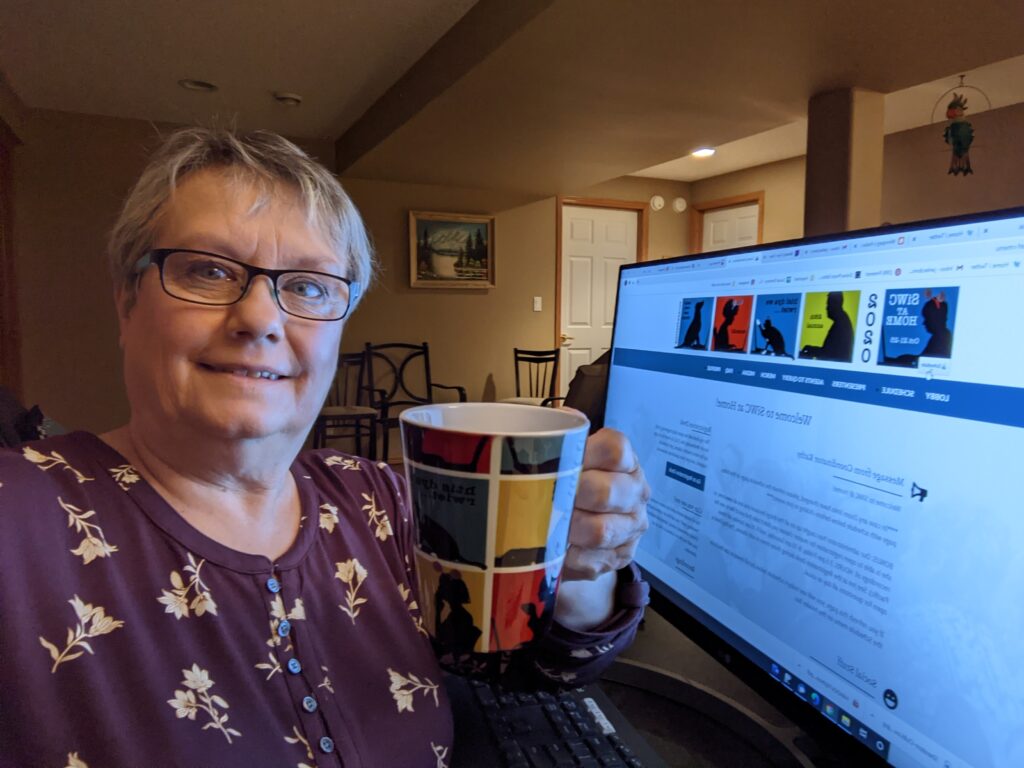 2. Blink and Stand
There are things you can do to avoid screen fatigue. Make sure to blink and take your eyes away from the screen for a few moments. Stand and stretch throughout the day.
3. Move
Sitting in sessions all day can make one stiff even at in-person conferences. At an in-person conference, you are likely to move at least a little as you go between conference rooms and to/from lunch, etc. Use breaks to walk around your house or up and down your street, weather permitting.
4. Attend social functions and connect with others
Networking and meeting other people are highlights of a conference. Networking opportunities look somewhat different in a virtual setting, but they still exist.
Join networking and social sessions offered by the conference. You'll have a chance to talk with others about the conference, your craft, and things in general. You'll have to make a conscious effort to do this by joining small group video chats or reaching out to other attendees via other mechanisms. You cannot rely on casual conversations struck with the person sitting next to you or with people you run into in the hallways.
Even though you may not be able to share impressions with the person sitting next to you, you can get a sense of what others are thinking by keeping an eye on what's being posted in the chat box (if there is one) during workshop sessions (recognizing also that you may chose to ignore it at times to focus more intently on the presenter). Join in as you feel is appropriate. You may wind up making a connection you want to pursue further after the session.
5. Avoid multi-tasking
Because you are at home and on your computer, the temptation may exist to do other work or check your email and social networks during a session. Avoid this. Ideally, the presentation is so riveting it has your complete attention, but there can be lull moments in even the best of presentations. If you use those moments to switch to another task you lose focus. It takes time to readjust back to the presentation content and you are likely to lose part of the thread.
6. Hydrate
Don't forget those glasses of water.
What To Do After A Virtual Conference
1. Watch recorded sessions
If the conference has recorded sessions and made them available to attendees for some period of time after the conference, take time to watch at least some of them. At every conference I have attended (in-person or virtually), there are a couple of time slots where I really want to see several sessions occurring at the same time and have to make a difficult choice. I love the opportunity to be able to take in some of those sessions I didn't get to.
Of course, it takes time to watch those sessions. Your time may be in short supply after you've already cleared your schedule just to be able to attend the conference. There is also an overload factor. How many more sessions can you take in after an intense conference schedule? Be judicious in your choices of which ones to watch. Choose those of most interest or use to you at this point in time. Don't beat yourself up if you are unable to watch all of the sessions or even all of your top picks. Watching even one is a bonus.
A Note On Virtual Conference Time Differences
The advantage of virtual conferences is that you can attend a conference anywhere in the world without leaving your home. However, the further away from your home the "home base" of the conference is, the more time zones you need to cross. It is relatively easy to adjust your schedule by one or two hours. If the conference is farther away and sessions are occurring in what is the middle of the night for you, you need to be prepared to live in an upside-down world for a few days. I don't have any specific tips on how best to do this. You need to determine what will work for you. Is the conference worth the disruption? Are there parts more important than others?
Although virtual conferences, like in-person conferences, can vary in quality and approach, a virtual conference can be an inspiring and satisfying experience. Preparing properly helps get the most out of that experience.