Have you heard of the PechaKucha presentation format? I hadn't until I was asked to participate in a PechaKucha Night. PechaKucha Night is tagged as "the art of concise presentations." Each presenter shows 20 images, which remain on the projection screen for 20 seconds each. The images advance automatically as you talk. Because of that continuous advancement, what you say about each image must take less than 20 seconds.
PechaKucha Night (PKN) was devised in Tokoyo in 2003 as an event for young designers to meet, network, and show their work in public. The reason given for creating this format on the FAQ section of the PechaKucha Night website is "because architects talk too much." (I don't think that's a trait unique to architects.) Since 2003, PechaKucha Night has spread to over 3,000 cities.
It was an article I wrote for Canada's History magazine that led to my participation in a PechaKucha Night. The article, entitled Taking To The Streets, was about visiting locations in my home city of Winnipeg, Canada, that were significant in the 1919 Winnipeg General Strike. That strike is a key part of the city's history and was one of the most influential events in the Canadian labour movement.
Organizations throughout Winnipeg have planned events and special exhibits throughout 2019 to commemorate the 100th anniversary of the strike. My article caught the attention of The Winnipeg Foundation, a community foundation that supports local charitable projects. They were planning their own event 20×20 on 1919: 10 Tributes to the Strike That Changed History.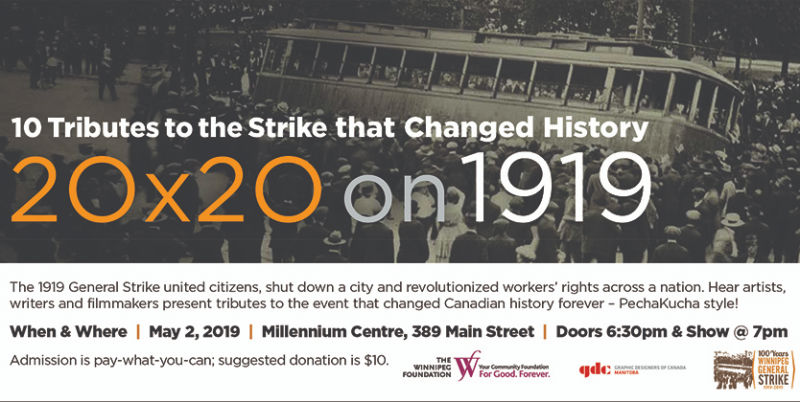 PKN is a short presentation format. A focused talk on one topic works best. Twenty seconds doesn't give you time to go into great detail. You need to distill the topic into the key points you want to convey and choose your words carefully. It is harder to craft something succinctly than write copious numbers of words about it, but the carefully crafted succinct version usually packs more punch. It is possible to say something meaningful in twenty seconds. (Especially if you happen to be a fast talker.) There is also the option to spread a particular point across several related images and use 40 or 60 or 80 seconds to communicate it. In an evening of related presentations, a larger story can be told though the ordering of the presentations.
There is freedom to play with the format as long as there are 20 slides. PKN presenters have danced, performed martial arts, and sung. The tone of PKN is usually light-hearted.
PechaKucha Night is trademarked. The global network is organized and sponsored by Klein Dytham architecture. Each PechaKucha Night is run by a city organizer. In the case of the 20×20 on 1919 event I participated in, the Winnipeg Foundation partnered with PechaKucha Night Winnipeg.
My presentation took the audience on a present-day tour of strike-relevant locations in the city. Other presenters included authors, an artist, a screenwriter, a history professor, a museum supervisor, and my niece, who is an honours history graduate and tour manager for the Winnipeg's Historic Exchange District.  Topics included the role of women in the strike (this was niece's presentation) , significant points in strike history, stories behind creating art related to the strike, and modern labour issues.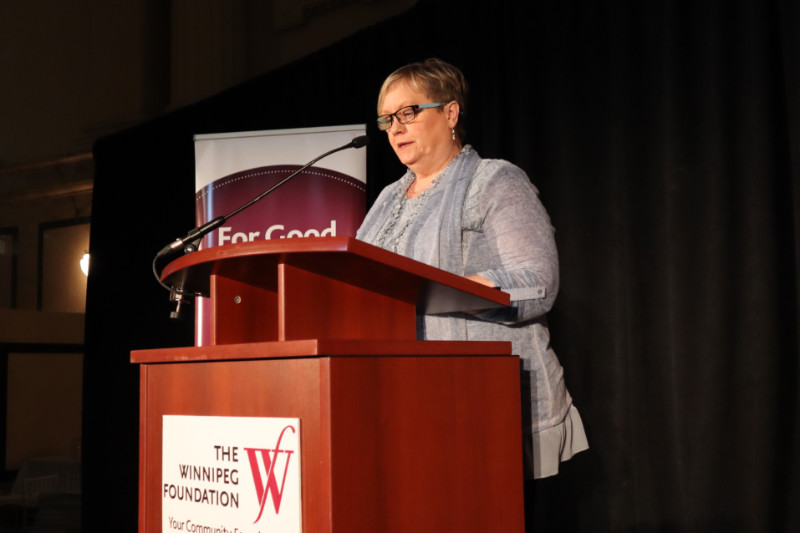 A curious thing happened during my presentation when a technical issue resulted in the screen going blank for a few seconds. This happened when I was talking about a building that no longer exists. The blank screen at that exact moment seemed intentional and elicited a few laughs. Whether this was the result of ghost or gremlin with a sense of humour or just a random glitch, I had no time to react to it. I was on the centre of the stage. Two large screens on either side of the stage displayed the images to the audience. The images were just barely visible in my peripheral vision. I hesitated for a second when I noticed the blank screen, but then kept talking as planned. Fortunately, the issue was quickly fixed and the image I'd expected to see soon appeared.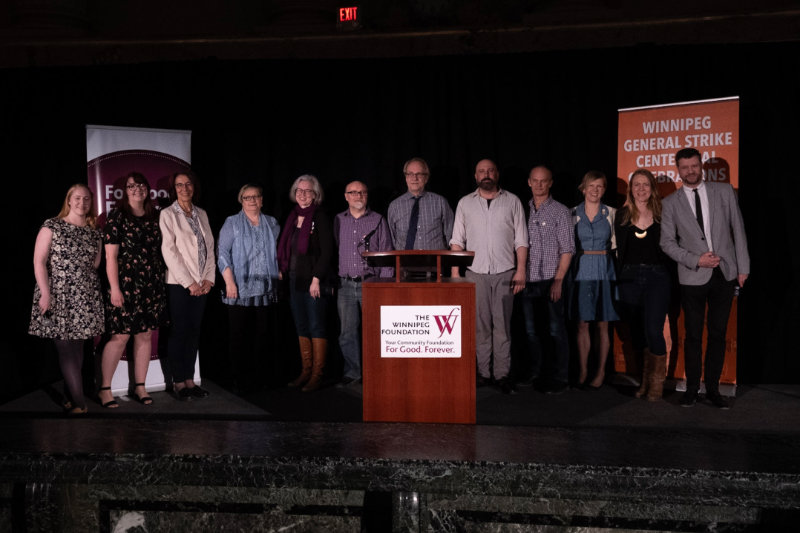 It was a fun and interesting evening. The visual, fast-paced format of PechaKucha Night creates an entertaining experience for the audience. You're unlikely to be bored in the audience and don't have time to think, "I wish he'd just get on with it." I would certainly attend another PKN (and maybe even present again).
PIN FOR LATER