While visiting Victoria, British Columbia this fall, I attended a different kind of art exhibition. Atwood Illustrated, which ran from September 26 to October 8, 2019 at Winchester Galleries, featured illustrations from Margaret Atwood's graphic novels.
Graphic novels have grown in popularity over recent years. The definition of a graphic novel according to Goodreads is "a narrative work in which the story is conveyed to the reader using sequential art in either an experimental design or in a traditional comics format." The story is told through the interplay of text, illustrations, and thought and speech balloons.
Both the art and the words have a role to play in telling the story. Each adds meaning to the other without duplicating the other. If the art illustrates a particular scene, words are not required to describe it. The scenes, people, and facial expressions portrayed in the illustrations need to be consistent with the story told through the words and add depth beyond the words. I imagine there are many different ways for writers and artists to work together in creating a graphic novel, but there must certainly be a good collaboration
Margaret Atwood is a respected and prolific Canadian writer. Publications include adult novels, children's books, poetry, short stories, non-fiction, scripts, and graphic novels. Her first novel The Edible Woman, published in 1969, put her on the literary map. After almost sixty years, she is still writing works garnering critical acclaim and is hugely popular. The Testaments, released in September 2019, sold more print copies in the first week than any other Canadian book since tracking started in 2005. She has won two Governor General's Literary Awards, two Booker Prizes, the Giller Prize, and numerous other awards. She became Companion of the Order of Canada in 1981. In October 2019, she received the Companion of Honour award from Queen Elizabeth II for her services to literature.
Margaret Atwood's bibliography includes graphic novels. It is the artwork from these novels that was featured in the exhibition.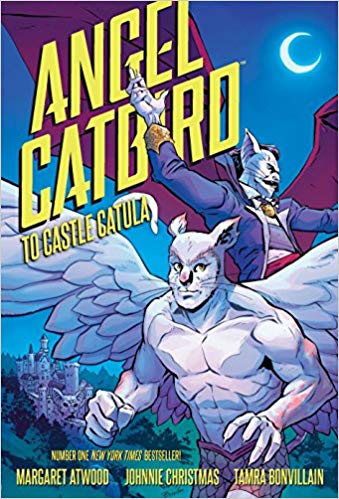 Angel Catbird was published in 2016. In it, a young genetic engineer is accidentally mutated by its own experiment and merges with the DNA of a cat and an owl. The story is a humorous superhero adventure filled with a lot of cat puns. Volume 2: To Castle Catula and Volume 3: The Catbird Roars were published in 2017. Illustrator Johnnie Christmas is a Vancouver-based comic book artist.
I thought the stylized black-and-white Johnnie Christmas artwork displayed in the gallery had a fantastical, other-worldly feel.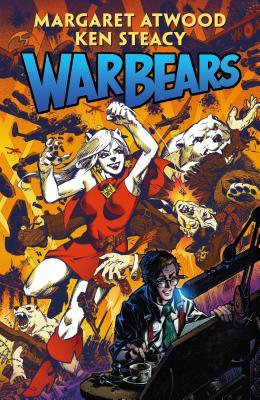 War Bears was published in April 2019. It is a historical fiction graphic novel tracing the Golden Age of Canadian comic books. It tells fictional stories set amid real events during the Second World War in Canada. Fiction periodicals were among U.S. items banned in Canada as part of the War Exchange Conservation Act, designed to conserve American dollars by restricting the importation of non-essential goods. Canadian publishers jumped into the comics market. The end of the war saw the resumption of U.S. comics distribution in Canada and the Canadian industry declined. The War Bears features a fictional Nazi-fighting superheroine created by a comic book creator dreaming of making it big in comics publishing until the rise of post-war American comics puts an end to his dreams.
The War Bears display in the exhibition included black-and-white as well as coloured frames. The drawing was very detailed with a lot going on. Many of coloured pieces effectively evoked a feeling of a 1940s city.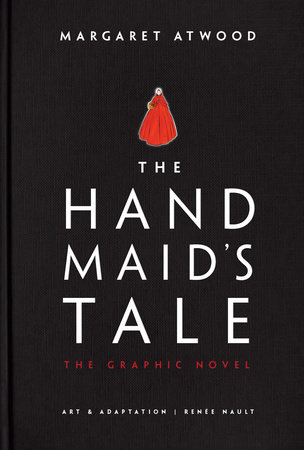 Atwood's The Handmaid's Tale, published in 1985, portrays the dystopian futuristic fundamentalist police state of Gilead that oppresses women and regulates all aspects of human life through constant surveillance. In 2017, a television series based on the book became extremely popular. In March 2019, a graphic novel version of The Handmaid's Tale was published. Atwood specifically chose Renee Nault as illustrator. Nault is a Canadian artist and illustrator known for her vivid watercolour and ink illustrations. She lives in Victoria, British Columbia.
Nault's artwork is compelling. Bright patches of red and blue among grey ominous tones convey the disturbing world of Gilead. I found myself continually drawn into her striking work.





I must admit that I do not read graphic novels, or at least I haven't until now. I also rarely read comics. I haven't paid a lot of attention to the current rise in popularity of graphic novels. This exhibition opened my eyes to the intricacy and creativity in the illustrations, and to the unique way the picture and words work together to tell a story in this genre. It is definitely not child's play.
If you are interested in seeing some of the artwork in these books, look through Winchester Galleries online gallery.