I recently visited Jane Austen's house in Chawton, Hampshire. The house is now a museum. This is the only house of the several Jane lived in that is now open to the public. It is also the home where she did most of her writing.
Jane lived at the house in Chawton for the last eight years of her life. One of eight children of a clergyman, she was born in 1775 in the village of Steventon. She began to write while living in Steventon, but had nothing published during that time. In 1801, the family moved to Bath. Jane did not like Bath. She was unhappy and did not write for the four years the family lived there. In 1805 Jane's father died leaving Jane, her mother, and her sister Cassandra vulnerable. They moved several times before settling in Chawton in 1809.
The house belonged to Jane's eldest brother. It was part of the Chawton Estate, one of several properties he'd inherited from a distant relative. He offered it rent-free to Jane, her sister Cassandra, their mother, and Jane's friend Martha Lloyd.
Jane flourished in Chawton. She wrote in the morning, walked with her sister in the Hampshire lanes during the afternoon, and spent the evening in the Drawing Room with the rest of the household reading or doing needlework. She sometimes rushed out of the room with a smile on her face to write something down before she forgot it. She revised the works she'd started in Steventon and wrote new stories. In 1811 "Sense and Sensibility" became her first published novel.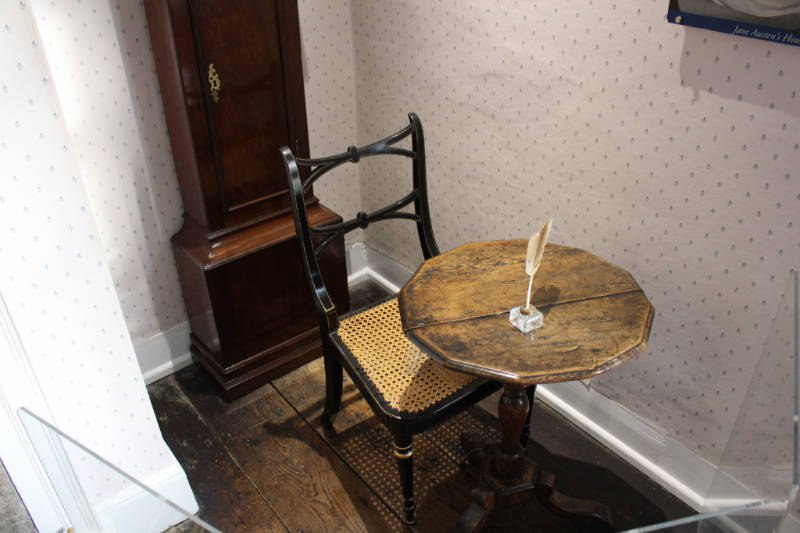 As I toured the house and learned more about Jane's life, I thought about the writing process and craft. I have a large desk with drawers and shelves. When I lived several months away from home, I sometimes struggled to find an optimal spot in which to write. Jane's writing table looks barely large enough to contain the pages she wrote upon, but it was all she needed.
Yet, there was a time in her life when she didn't write. Sometimes we hear about writers creating art out of their misery. Some people claim writing helps them work through their anguish and sorrow. When Jane was unhappy she didn't write at all. I could relate to that. Turmoil is more likely to keep me from writing than to encourage creativity.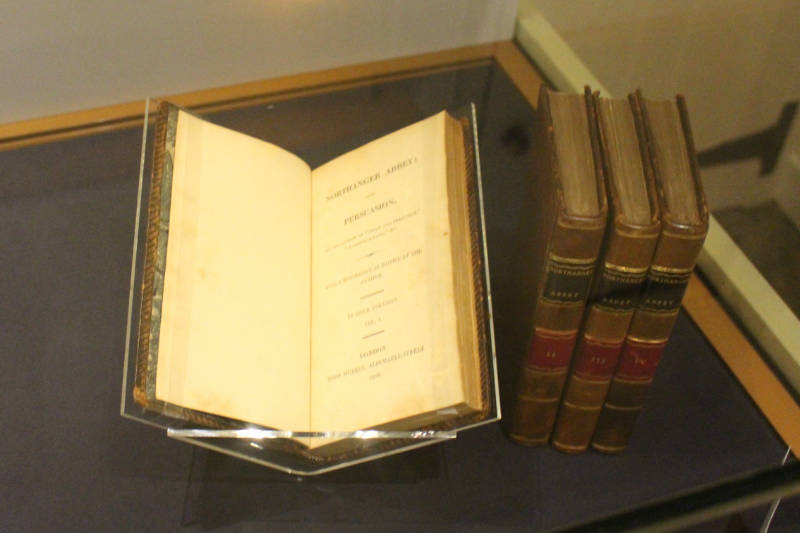 I left the house comforted and encouraged by Jane's writing life. Gaps in my writing may happen, but they are unlikely to be permanent. If I need time away, it does not make me less of a writer. Every writer must find their own place of comfort from which to write. When I do write, I don't need the perfect space or set of tools. A routine of regular writing time may be the most important tool. While my routine is not as consistent as Jane's mornings, sitting down to write regularly and frequently is the best way forward. And I must remember to write things down before I forget them, even if I have to dash out of the room to do it!
PIN FOR LATER