As a reader and a writer, I enjoy book, writer and reader festivals. Imagine a two-day FREE festival with more than 350 authors, over 250 exhibitors and a "science city", where people of all ages can get up close and personal with science. I've wanted to attend the Tucson Festival of Books in Tucson, Arizona ever since I heard about it over three years ago. The festival takes place on the University of Arizona campus  in central Tucson on a weekend in mid-March. This year I had the opportunity to attend the 2015 festival, the 7th year for the event.
Two streets in the centre of the campus, blocked off to vehicular traffic for the event, are lined with exhibitor tents, featuring publishers, writers' associations, other Arizona and national associations, individual authors, schools and libraries, spiritual groups, health information and more. I noticed a craft tent and a native story-telling tent. One section contains activities for children. There are food and snack vendors and areas to sit while you eat.
Author panel discussions, author lectures, culinary demonstrations by cookbook authors and writing workshops occur throughout the two days. Five one-hour sessions are scheduled each day at hour and a half intervals, beginning at 10 am with the last session starting at 4 pm. The events take place mostly in various university buildings bordering the exhibitor area, but a few are scheduled outdoors in tents. Authors are available to sign their books after the sessions. And, of course, books are available for sale.
If I had to sum up my first impressions of the festival in one word, that word would be overwhelming. I was overwhelmed when I first looked at the schedule online to determine which events I would attend. I counted 35 different events occurring in each time slot, covering a variety of genres and interests. I eventually managed to get through the schedule and make my list of first, second, third, fourth and, in some cases, fifth choices for each time slot. Each venue had a seating capacity limit, varying from as low as 28 to as high as 600. If I couldn't get into my first choice, I wanted back-up options. The evening before the festival, I used the online map of the festival to make slight adjustments to my list. I altered the order of my choices to minimize walking time if I had to go to one of the back-up options.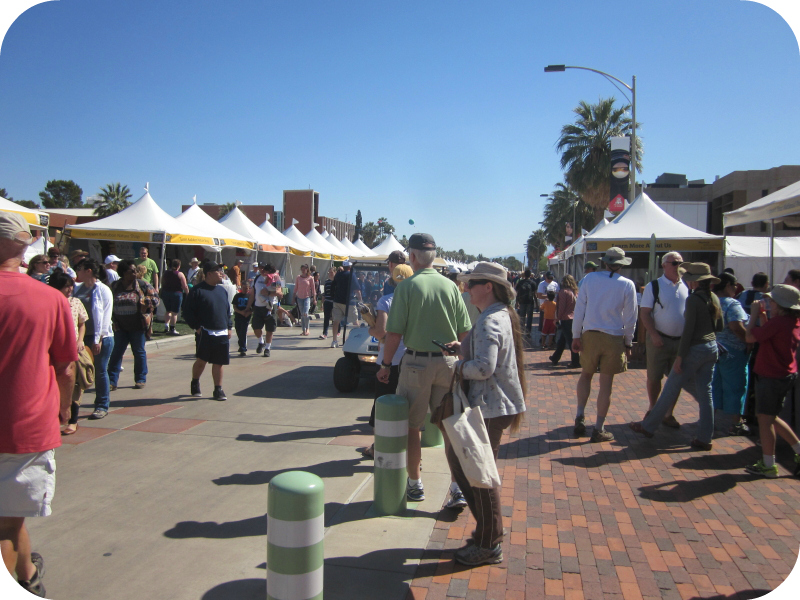 When I arrived on Saturday morning and saw the long, long line of tents and crowds of people, I was once again overwhelmed. Even with a printed map in my hand, finding the location of a particular venue seemed daunting. I wished I had come to the campus the day before and got to know the lay of the land. While in Tucson, we stayed at a bed and breakfast with two guest rooms. The guests in the other room were also in town for the festival. They had attended the previous year and offered us some advice. They said the venue that had been hardest to locate was the Integrated Learning Center because it was underground. The first event I wanted to attend was in that venue. Even with their advice, I had some difficulty. Knowing it was underground helped. I found railings bordering an open atrium to the underground but still had to ask where the stairs were. (There was also an elevator for those who have trouble with stairs.)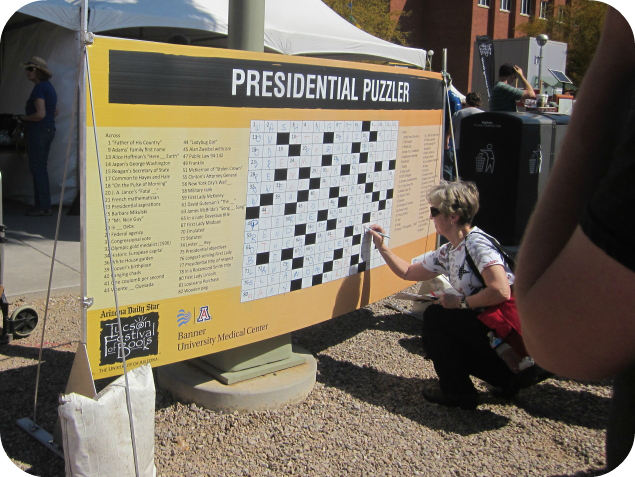 Of the five Saturday sessions, I got into four of my first choices. Sessions were generally first-come, first-served. This year for the first time, advance tickets for the six largest venues (seating for 300 to 600) were available online. A small percentage, in the range of 20 to 25% I believe, were reserved for walk-ups. My second Saturday session was one with advance tickets. I did not have an advance ticket. Two lines formed outside the venue – one for those with tickets and one for those without. My first thought when I saw the number of people in front of me in line was that there was no way I'd get in. A couple of people ahead of me obviously thought the same thing and left to find another session. I decided to wait. A second look at the line and I figured I might be right on the edge of the cutoff, but I wasn't sure which side of that edge. After the people with tickets were allowed in, my line began to move. It stopped two people ahead of me. Volunteers ran in and out of the building to check on numbers of open seats. I got in, as did five to ten people behind me. The session was well worth it.
I heard mixed reactions from attendees about the advance ticketing. Some thought it helped reduce massive line-ups. Others didn't like it and claimed a larger percentage of seats should have been saved for walk-ups. I imagine festival organizers will be assessing how well the process worked to determine if and in what format advance ticketing occurs next year.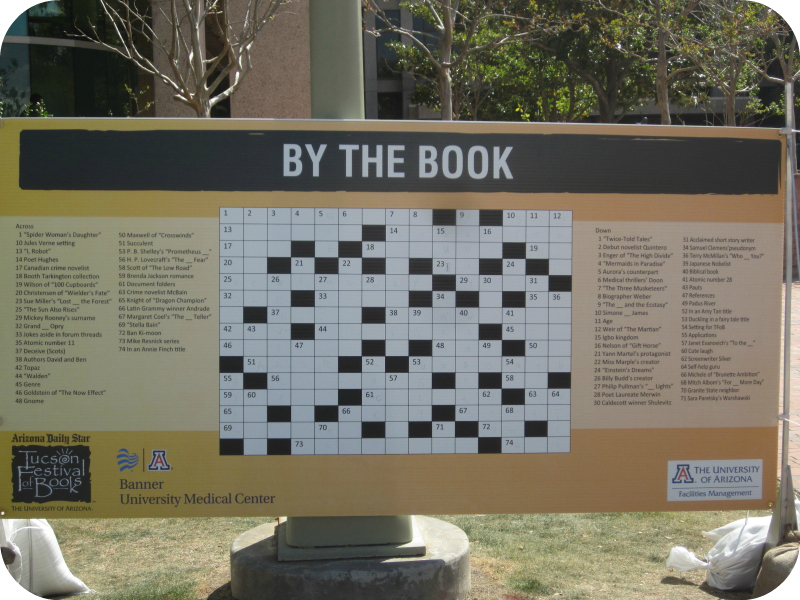 Although crowds on Sunday were slightly smaller than on Saturday, overall I was impressed that so many people of all ages came out to the festival, not to see rock stars or movie stars, but to hear authors and buy books. Over the course of the two days, I was amused and entertained by authors, I discovered new authors I want to read, and I learned a lot from the five writing workshops I attended. If I am asked now to sum up the festival in one word, that word would be amazing.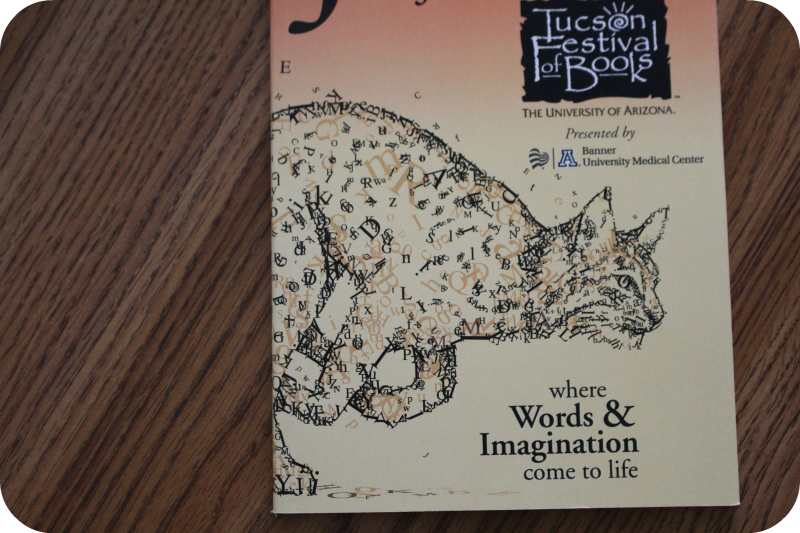 The festival is organized and run by volunteers. A large number of sponsors make it possible to run as a free event. Even the parking garages on campus are free that weekend. Individuals can contribute by becoming Friends of the Festival. The Festival supports literacy programs throughout southern Arizona.
Festival Tips
Take time ahead of the festival to review the event schedule to determine what and who you want to see. Have a list of backups for each time slot in case you don't get in to your first choice. Plan your backups with location of venues in mind. You're unlikely to get into your second choice if you have to race from one end to the other.
If you are concerned about finding your way around, consider visiting the campus in the days before the event to learn where things are. It is a beautiful campus with several museums to visit. You could make a day of it.
Wear good walking shoes. For those unable to walk much, volunteers on golf carts were available to ferry people between the festival area and parking lots and within the festival area itself. Most of the venues had elevator access and special handicapped access areas.
Bring a hat and sunscreen. Even though the events themselves are indoors or under covered tents, you walk outside between sessions or if you are exploring the exhibitor's tents. The other guests at the bed and breakfast told us sunscreen was available in the National Parks tent, but I didn't go there to confirm that.
The weekend Arizona Daily Star papers have festival inserts with pages of information, including a map and a full schedule list. The Arizona Daily Star, a festival sponsor, has a tent at the event. You are likely to find copies of the insert there.
Unless you want to bypass one of the sessions to take time to eat, bring food or snacks to get you through the day. There were some great food options, but there were also often line-ups. By the time you get your food, there is a good chance you won't make it to the next session, never mind taking time to eat.
Don't be afraid to take in a session you hadn't planned to. You may be pleasantly surprised and discover an author you were unfamiliar with, but now wish to read.
Have you attended the Tucson Festival of Books or a similar event? What did you think?