When I heard about a place called "town of books" and learned it was close to where I was vacationing in Wales, I knew I had to add it to my itinerary.
Hay-on-Wye (Y Gelli in Welsh) is a small market town located within the northeastern tip of Brecon Beacons National Park on the Welsh side of the border between Wales and Heresfordshire, England. Its history can be traced back to the twelfth century, but its reputation for books came about in more recent times.
In the 1960s, Richard Booth converted an old fire station into a used bookstore. He gradually opened other bookstores in town and other booksellers followed until the town had forty bookstores. In 1977, Richard Booth declared Hay-on-Wye to be an independent kingdom and nominated himself king. The ensuing publicity boosted tourism. According to the map of secondhand & antiquarian booksellers I picked up at the tourist office, today's Hay-on-Wye has twenty-one bookstores, one of which is a book centre which houses fifteen different book dealers.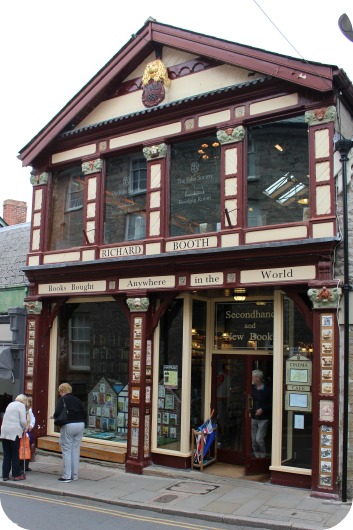 The bookshops are found throughout the town, in the cinema, in alleyways, in old buildings with rambling rooms, and even at the ruins of Hay Castle which dominates the town centre. Some of the shops specialize in genres or specific types of books, such as mystery, children books, history, poetry, music, or Eastern religion. Some focus on rare and out-of-print books. I walked through shops with books piled high on wooden shelves in nooks and crannies throughout the store. I loved the smell of old books greeting me as I entered. I was surprised to see so many early editions. Booksellers were willing to help or eager to just chat.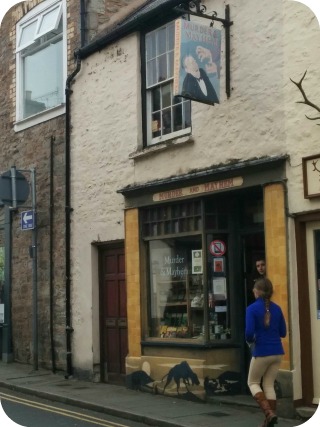 Since 1988, Hay-on-Wye has been home to the Hay Literary Festival, one of the top book festivals in the world. For ten days in May, the town of nearly 2,000 people swells to somewhere between 100,000 and 200,000. Bill Clinton called the festival "Woodstock of the mind."
Many of us now read books digitally. Others claim there is nothing like holding a paper book in your hands and physically turning its pages. I am a bit in both camps. I read e-books on my iPad. I like the convenience of storing several books in one device when travelling. But I also love to hold a "real" book in my hands.
In 2012, Derek Addyman, a leading Hay-on-Wye bookseller, started a campaign to ban Kindles and other e-readers from the Hay Literary Festival, describing the e-books as soulless. I found no mention of a ban on electronic book readers on the Hay Literary Festival website, but there is a definite anti-electronic sentiment among the booksellers. I came across signs banning e-books or claiming Kindle-free zones.
As a reader, I like to have both reading options available. As a writer, I like to see people reading books in any format, although it is worth mentioning that writers receive no financial benefit from the sale of second-hand books. As both a reader and a writer, I think it is cool that books can make a small town a tourist attraction.
Hay-on-Wye has more to offer than books. The town has a number of galleries, antique shops, and gift stores. The area around the town is popular with hikers. But it is the books and the bookshops which make the town stand out for me. It would be fun to return one day and attend the Hay Literary Festival.