I didn't read as many books in 2022 as I did in the previous year, which may have been a record year for the volume of my reading. The lifting of pandemic restrictions opened up more possibilities for getting out and doing other things. I also had a number of other responsibilities occupy some of my time. Still, I did manage to read to fair bit.
Here are my top ten reads of 2022, listed in the order in which I read them. (Note: Only one of the books was published in 2022. The rest of the books have publishing dates between 2017 and 2021.)
1. Anything Is Possible by Elizabeth Strout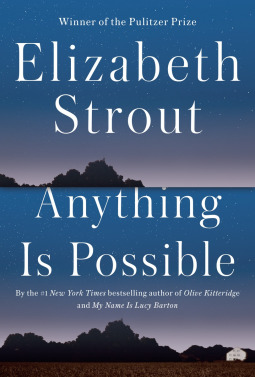 I've read several of Pulitzer Prize winner Elizabeth Strout's books. In the short story collection Anything Is Possible, Strout returns to the Illinois hometown of the heroine of her book My Name is Lucy Barton. Each story focuses on a different character in, around, or from that town.
The characters have lived through a variety of unhappy and horrible experiences. They continue on, often in very ordinary ways of daily living, to get through and past that. Many would be labelled as losers and outcasts. The intimate look at their lives reminds us they are "real" people. Of course, some are more likeable than others. And, yes, Lucy Barton does make an appearance in one of the stories.
She is also mentioned in many of the other stories. A brief, casual mention to that Barton girl or the Barton family. The stories are interconnected beyond the references to Barton. Characters from one story make brief appearances in other stories, either showing up in a scene or being talked about. Those references not only bind the stories together, they show the disconnect between other people's perception and what someone is really like or going through.
I watched an Youtube video of Elizabeth Strout being interviewed about this book. A part of that interview stood out for me when she talked about using small towns as a setting. Strout said that in a small town people think they know each other, but people don't ever really know someone else. She likes to bring in different points of view.
Strout shows compassion for her characters and makes the readers care about them. They seem very real. I have read My Name is Lucy Strout, but I don't think you need to have read that book to appreciate and enjoy Anything Is Possible, published by Random House in 2017.
2. Out of Mind by David Bergen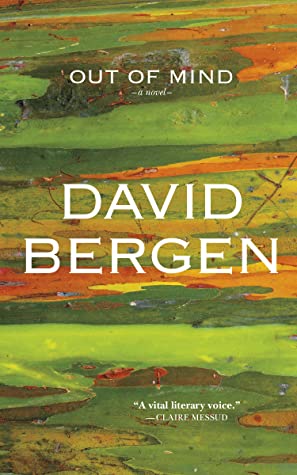 Out of Mind by award-winning Winnipeg author David Bergen follows Lucille Black on her quest to reform herself and negotiate her altered role in the lives of family and friends.
Lucille Black first appeared in a previous David Bergen novel The Matter with Morris. That book followed 51-year-old Morris Schutt, a newspaper columnist, as his life unraveled. His only son Martin was killed in friendly fire in Afghanistan. He is partially estranged from his oldest daughter. He is put on leave from the newspaper. And he is newly separated from his wife, psychiatrist Lucille.
Out of Mind begins with Lucille dealing with her ex-husband's betrayal when he publishes a memoir about the aftermath of their son's death. She travels to Thailand to attempt to extricate her youngest daughter from the clutches of an apparent cult leader. She is invited to France to attend the marriage of a man she rejected a year earlier. As she circles the globe, she analyzes and negotiates with herself about her changing roles.
David Bergen is known for his clean and elegant prose. Bergen's powerful writing has created a compelling narrative in Out of Mind, published by Goose Lane Editions in 2021.
3. The Paris Apartment by Kelly Bowen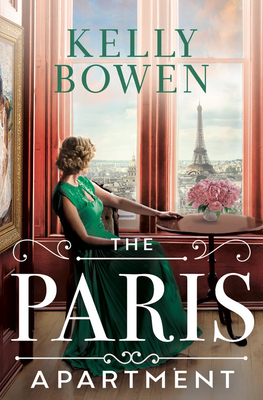 The Paris Apartment by Kelly Bowen unfolds in two different narratives, set 75 years apart. In 2017 Aurelia Leclaire inherits an opulent Paris apartment that had belonged to her grandmother. She is shocked to find its hidden secrets: famous art and couture gowns. One obscure painting leads her to Gabriel Seymour, an art restorer with his own mysterious past. Together they attempt to uncover the truths within the apartment walls.
In 1942 Paris, glamorous Estelle Allard flourishes in a world separate from the hardships of war, yet she doesn't hesitate to help those she cares about when Nazis come for her friends.
The two narratives weave together as the story evolves and we learn more about the apartment, its past, and Aurelia's grandmother. The story moves along quickly for a pleasant read.
The Paris Apartment was published by Forever in 2021.
4. The Sentence by Louise Erdrich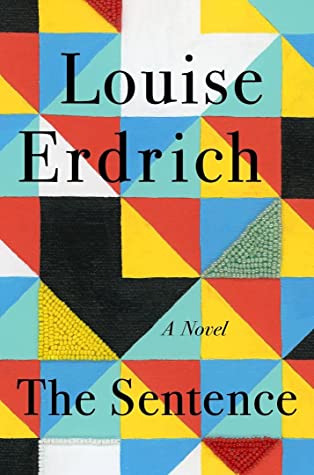 The Sentence by Louise Erdrich, published by Harper in 2021, begins on All Souls' Day 2019, when Flora, the most annoying customer of an independent bookstore, dies. Tookie, who now works in the store after years of incarceration that she survived by reading ferociously, feels Flora haunting the store. Throughout the next year, Tookie tries to get Flora's ghost to leave the store at the same time as she tries to understand all that happens in Minneapolis and deals with her grief, astonishment, and isolation. The book ends on All Souls' Day 2020.
That year included the COVID-19 pandemic and the George Floyd protests. The feelings and reactions of Tookie and the people around her to the new, unknown virus took me back to my own experiences at that time. The emotion and turmoil associated with the George Floyd protests made them seem more real and personal than what I'd seen on the news.
Award-winning novelist Louise Erdrich is the daughter of a German-American man and a Chippewa woman whose writing features Native American characters and settings. She owns Birchbark Books in Minneapolis, an independent bookstore focusing on Native American literature and the Native community in the Twin Cities. (There are a couple of places in The Sentence where Tookie references her boss and bookstore-owner Louise.)
Erdrich is a beautiful writer. The Sentence is funny, moving, and profound. Its characters are richly formed and delightful. If I had to pick one book as my favourite read of 2022, The Sentence by Louise Erdrich would be it.
5. Bombing The Moon by Nancy Chislett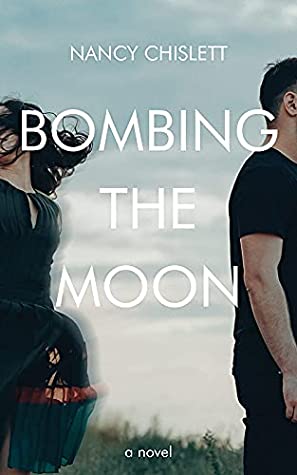 Bombing the Moon, Winnipeg author Nancy Chislett's first book, explores the promises and limitations of tough love.
The book starts with 24-year-old Devin being taken to the airport by his grandfather. Devin is jobless and antagonistic and feels like the world is rigged against him. His parents don't support his dream of becoming a song writer. Grandpa hands Devin a one-way ticket to Nairoba, Kenya, a chance for Devin to toughen up. Grandpa was acting alone, but Devin thinks his whole family wants him gone. In a fit of outrage, he gets on the plane.
Back home, Devin's parents and sister are stunned by his departure. The fractures in his parents' marriage widen. His sister deals with her own issues and shame.
The story is told in four voices, those of Devin, his father, his mother, and his sister.
Nancy Chislett is in my writing group. I had seen early drafts of a number of the scenes. It was interesting for me to read the finished product with updated versions of those as well as scenes I'd not seen before. My group discussed the characters. I felt as if I knew them, at least somewhat, before opening the book. Yet, I found myself absorbed in learning more about them as their personalities and history were revealed bit by bit throughout the story.
The story is raw at times. It can be disturbing and darkly funny. The characters are haunting.
By the way, the title comes from the name of a top-secret plan developed by the United States Air Force to nuke the moon in 1957 at a time in the height of the Cold War when the Soviet Union took the lead in the space race. Fortunately, the project was cancelled. It had no specific purpose other than being a show of force. Chislett finds that force analogous to aspects of tough love.
Bombing the Moon was published by Now or Never Publishing in 2022.
6. The Vanishing Half by Brit Bennett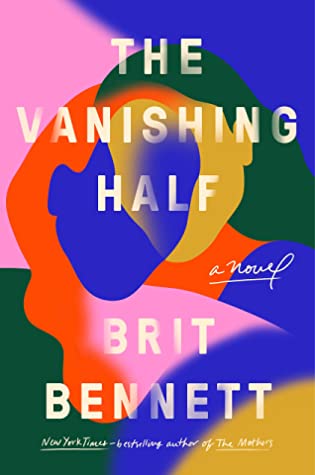 Published in 2020 by Riverhead Books, The Vanishing Half by Brit Bennett follows the lives of twin sisters from the 1950s through to the 1990s. The Vignes sisters were raised in the fictional town of Mallard, Louisiana, a small town created by their great-great-great grandfather as an exclusive place for light-skinned blacks like him. The town developed its own prejudices ("nobody married dark") and over time, its population became lighter and lighter. Still, the Vignes sisters' father was lynched by white men and their mother lived in poverty cleaning white people's houses.
Both sisters run away to New Orleans as teenagers, but after a year separate from each other. One passes as white and marries a white man who knows nothing of her past. The other returns to Mallard with her black child and spends decades searching for her long-lost sister.
It is a family story that explores the American history of racial passing and the influence of the past on a person's decisions, desires, and expectations. Although the plot hinges on a few stretching-belief coincidences, the writing and story are compelling enough to keep the reader turning pages to find out what happens next.
7. And Miles To Go Before I Sleep by Jocelyne Saucier translated by Rhonda Mullins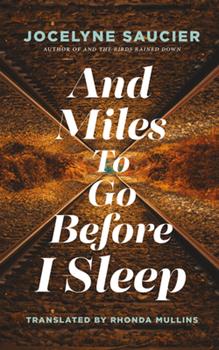 Jocelyne Saucier is a Canadian author and journalist based in Quebec who writes in French. I picked up And Miles To Go Before I Sleep, published by Coach House Books in 2021, because I'd read and loved another one of her books, And The Birds Rained Down.
In And Miles To Go Before I Sleep, elderly Gladys leaves Swastika, Ontario, her home for the past fifty years, without telling anyone and hops on the Northlander train to put miles between her, the village, and her troubled adult daughter.
The story is told through the eyes of an unknown narrator who has been documenting disappearing northern trains. He goes on a quest to uncover the truth of Gladys's voyage, tracking down fellow passengers and train employees to learn what happened to Gladys and her daughter. Set in northern Ontario and Quebec, the story weaves back and forth in time between the narrator's search, the trip Gladys took shortly before he began his quest, and Gladys's past. Toward the end, the story shifts in tone and nature as we learn more about the narrator.
Very early on in the book, I became curious about the places mentioned. I searched the Internet to learn that the towns and trains in the book were very real. I searched again when the story talked about Gladys growing up as a teacher's daughter on a school train. I'd not heard of school trains before. School trains operated in Ontario from 1926 to 1967. Train cars were converted to school houses and travelled from community to community to bring education to the children of miners and trappers working in remote regions. They'd stop for a week at a time in one community before moving on, hitting each community five or six times in a school year.
Reviews of the book have described it as showing the power of human connection, a meditation on aging and freedom, and being about stories and how we tell them when we have only fragments and pieces. It is all of that. It is an unusual story told in an unusual way that I thoroughly enjoyed reading.
8. The Dutch House by Ann Pratchett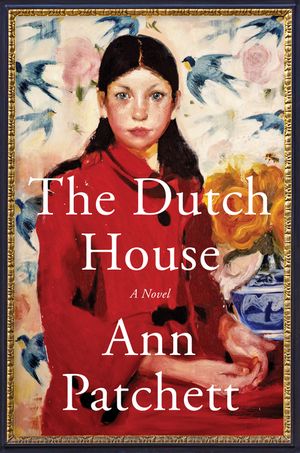 The Dutch House, published by Harper in 2019, is told from the first-person perspective of Danny Conroy over the course of five decades. It is described as a dark fairy tale about two smart people who cannot overcome their past.
The Dutch House got its name because the grand mansion outside of Philadelphia had been built by a Dutch couple. Danny's father, a real estate mogul, purchases the full-furnished Dutch house in an estate sale as a surprise for his wife. Danny's sister Maeve is five at the time. Danny is born a couple of years later. After their mother leaves, Danny and Maeve bond tightly, with Maeve becoming very protective of Danny. Their father dies while Maeve is at college. Their stepmother kicks Danny out of the house and into his sister's care.
The story follows the lives of Danny and Maeve and their relationship. Their stepmother inherited everything except for Danny's education trust fund. Maeve convinces Danny to use as much of that money as possible by going to a costly medical school, even though Danny was more interested in real estate.
The siblings live most of their lives outside of the Dutch House, but the house figures prominently in the story. They often return to the house to sit outside and watch it. Although they both achieve some measure of success, they cannot let go of what they lost. Eventually they are forced to confront those who left them behind.
It took me a little bit to get into the story, but once I did it became a page turner. The Dutch House was a 2020 Pullitzer Prize Finalist.
9. A Town Called Solace by Mary Lawson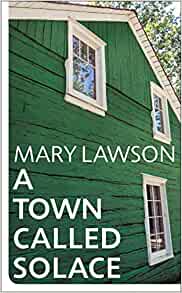 The story in A Town Called Solace, published in 2021 by Penguin Random House imprint Chatto & Windus, is told by three different people. Eight-year-old Clara sits by the window and watches for the return of her rebellious teenaged sister who has been missing for weeks. In an agreement reached with her father, she breaks the vigil only to eat, sleep, go to school, and feed neighbour Mrs. Orchard's cat while Mrs. Orchard is in hospital. The elderly Elizabeth Orchard's story shifts in time between the hospital, where she talks in her mind to her dead husband, and her earlier life. Thirty-something Liam moves into Mrs. Orchard's house, much to Clara's chagrin.
As the story unfolds, we get to know each of the characters, discover the connection between Elizabeth and Liam, and see their relationships develop. They do find comfort in the town called Solace.
The characters are well-developed and the story moves along well. It is a feel-good satisfying read.
10. Where The Crawdads Sing by Delia Owens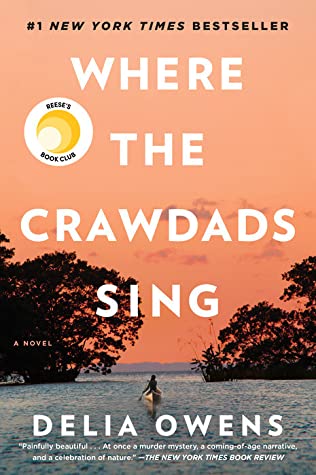 Where The Crawdads Sing, published by Penquin Random House imprint G.P. Putnam's Sons in 2018, is written in two alternating timelines: Kya's isolated childhood during the 1950s and 1960s along the North Carolina coast, where she mostly raises herself, and 1969 when Kya becomes a prime suspect in the murder of popular Chase Andrews.
Growing up barefoot and wild, Kya becomes known as Marsh Girl. She does not attend school, but is a born naturalist who studies the land. She lives an solitary life, yet yearns for connection. The book is an ode to nature, a coming-of-age story, a romance, and a crime drama. It's about resiliency, survival, and isolation.
There is some controversy around this book that I was not aware of before I read the book. The author and her husband have been advised never to return to Zambia, where they once lived and worked, because they are wanted for questioning in a decades-old murder. The novel has also been slammed for racial stereotyping in its portrayal of two central Black characters. I believe there is merit to that criticism.
I enjoyed the book overall, but did find it slow to get into. A few of the plot points stretch belief, but the story was compelling enough to keep reading. The book was made into a movie that opened in 2022.